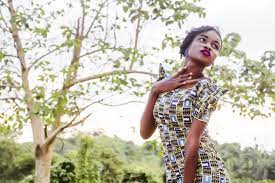 Let's talk about the latest Ankara Gowns styles in 2022 that will be popular this month. Here you will find the hottest Ankara gowns for gorgeous African women. You will find beautiful and modern African fashion here.
When Ankara styles are expertly tailored and styled, they look better. Because of this, we have created this magnificent trending piece so that you won't have to worry about looking good while going to a party.
The dresses were made from Ankara fabrics to satisfy the needs of those seeking Ankara garments. In terms of fashion solutions, Nigerian women are known for their preference for bright colors. This guide is all about top Ankara gown ideas in detail.
The Unique Styles of Ankara Gowns
Africans and Nigerians do amazing things with Ankara today. You can design anything you like, including blouses and skirts, silky tops, gowns, handbags, shoes, and book designs. Despite all the confusion and mistaken ideas about fashion, one of the most recent Ankara gowns we might look at during this article is the idea that Ankara fabric can only be worn classically. A sufficient amount of evidence exists to prove the falsehood of this particular rule. There is no doubt that stylists are independent thinkers.
Read more:A Comprehensive Guide About Cornrow Ponytail Hairstyles
Top 17 best Ankara gown style ideas
1.       Sneakers and mini gown
With mini gowns, you have a lot of opportunities to choose your footwear creatively. They look way more relaxed with sneakers, but heels would also work with this outfit.
2.       Black Ankara with Rope Belt
An exciting aspect of Ankara is that you can personalize it to your liking. You can wear the simple style of the Ankara gown with or without a belt and only need comfortable sneakers to complete the look.
3.       Layer Gown Fashion with Sneakers
Dresses with layers have been considered stylish for a long time, and you can make them even more so by substituting those heels with comfortable sneakers.
4.       Sleeves with flare Ankara style
For those of you who have spent a lot of time trying to find a style to match your Ankara gowns with sneakers, here is a style that wraps up the whole look. This exciting outfit is designed to work for any occasion, and its simplicity makes it stand out.
5.       Short Shift Ankara Gown Style
A shift gown style has been introduced recently made of Ankara, and we think it is fascinating. It is classy enough that it can look great on any figure. A pair of sneakers looks lovely with this style, and you can easily recreate a look for a party.
6.       Shoes and a Micro Gown
Something about the simplicity of this Ankara micro gown style makes you fall in love with it. This style is perfect for both casual parties and paired with sneakers.
7.       Gown with Bell Sleeves Made of Ankara
Because Bell sleeves are so comfortable, they're the most common sleeve type. They make a stylish and convenient combination paired with comfy sneakers.
8.       An elegant Ankara gown
Depending on what you are trying to accomplish, you can wear the Ankara style casually or upscale. This short Ankara gown style is perfect for the church as it is elegant and not too flashy.
9.       Short Ankara gown with very long sleeves.
Since mini gowns used to be worn with heels, the fashion set has changed, and now they can be worn with sneakers as well.
10.     Cute Designer Sneakers With Double Sleeve Ankara
Wearing sneakers with your short Ankara gown is just as fun as wearing heels. It makes a massive difference to this Ankara short gown if designer sneakers are worn with casual outfits to make them look sophisticated.
11.     Stylish Ankara Split Gown
Ankara short gowns with splits are another trend we adore. Styles like this will continue to be popular in the future, and wearing them with sneakers makes them even more fun.
12.     Latest Ankara Short Flare Gown
Instagram has been inundated with pictures of a style that has recently set trends. Simple but stylish, the style matches well both with heels and flats.
13.     Ankara gown with ruffled pockets
Ankara mini gowns with patched pockets are the most versatile designs. You could pair it with denim and a blouse version, and don't forget the sneakers look great.
14.     A-Line Casual Gown
You can't be bored with Ankara styles when you have the suitable models to inspire you. If your designer can replicate this well, and if you have sneakers to pair with it, you are good at a wedding or hanging out with girlfriends.
15.     The Ankara off Shoulder Gown
You can add off-shoulder cap sleeves to any design and choose to add other sleeve types to it. You can put off-shoulder cap sleeves on any design you like.
16.     Ankara flare gown
With sneakers, a flared dress is comfortable and super convenient to wear. Whether at a party or out for a casual day, you can have fun in this Ankara dress with the belt.
17.     Printed gown in Ankara print.
It's beautiful, and just like any short Ankara gown style, it's comfortable and easy to recreate. The Ankara print looks incredible on sneakers and quickly becomes the fabric of choice.
FAQs (Frequently Asked Questions)