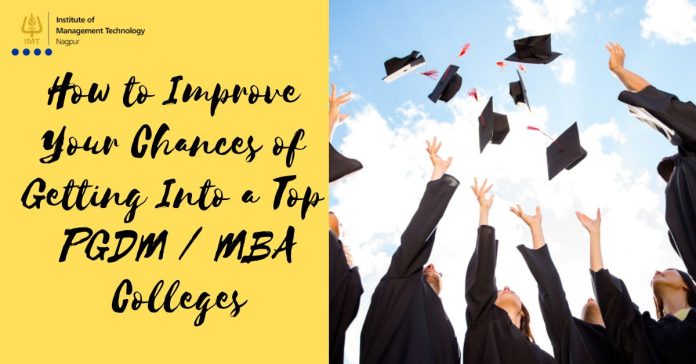 Last Updated on January 19, 2023 by Tabraiz
Getting into a top-graded PGDM / MBA college like IMT Nagpur is a highly competitive affair. You need to finish more substantial, go deeper and start earlier to win the "entry ticket" to your dream institute. So if you want a serious investment of your money and time in a PGDM / Master of Business Administration (MBA), you need to enhance your profile. Your application will likely be accepted if you work on the core areas.
Tips to Improve Your Odds of Getting Admission to a Reputed MBA College
Prestigious institutes such as Institute of Management Technology, Nagpur (IMT Nagpur) accept only a selected number of applications. Hence, improving your chances of getting into a top MBA college is essential.
You can do so by following the tips listed below –
1. Grab Volunteering Opportunities in Your Community
Participation in volunteering works for the community will improve your initiative-taking ability. Plus, you can enhance your interpersonal skills while developing a network which could turn out to be beneficial in your career prospects. Institutions like IMT Nagpur pays a significant amount of importance to such exposures.
You could conduct talks and seminars for school kids on various issues such as adolescent health, drug abuse, etc. It will help you gain an impeccable experience in different areas. The initiative of taking social responsibility will reflect leadership and organizational skills, which will give you an edge during the admission process. 
2. Strengthen Your Basics in Management and Finance
It is essential for the ones who don't have any background in finance and management studies. Though faculty of IMT Nagpur will groom you with these inputs, you should have basic knowledge of capital structure, risk and return, capital budgeting, and dividend policies, similar concepts. It will show your dedication towards your career aspirations in your application.
3. Enhance Your Knowledge of the Topics Relevant to Your MBA Specialization
One of the best ways of increasing your knowledge is by attending conferences on the subjects that interest you. Various management institutes such as IMT Nagpur conduct conferences. So you can easily find some good options in your location. Conferences are excellent opportunities to upgrade your knowledge while networking with professionals. Plus, you'll gain a better perspective which will reflect in your interviews and essays with the MBA institute.
4. Build a Habit of Reading a New Every Week or Month
Reading will open your mind. Plus, it will improve your writing and speaking skills. Plus, it will also enhance your application essay writing skills, and you can turn up with an impressive write-up. Besides, it also reduces the possibility of fumbling for words in a group discussion or an interview.
5. Stay Active on MBA/GMAT Forums
Staying active on these forums such as blogs by IMT Nagpur will give you access to new pieces of information every day. Plus, you'll also have the opportunity of sharing your knowledge and thoughts with other members of the MBA club, which could prove to be fruitful for them. It will help you strengthen your MBA network. If you allow your fellow aspirants, you'll not only widen your network but also reciprocate whenever you need any help. Staying active in the circle will keep you updated with the new trends and development in that space.
Conclusion
Reputed institutes like IMT Nagpur always look forward to building community-focused, smart, and accomplished future leaders who can bring positive societal change. Individuals with unique experiences, hobbies, backgrounds, and passions have a good chance of getting selected into a reputed PGDM college in IMT Nagpur . Hence, it is advised to be as authentic as possible. Also, be upfront about your interests and external hobbies. Dive deep into your passion and things that excite and generate curiosity.
Also read – How International School Will Help in your Child's Growth