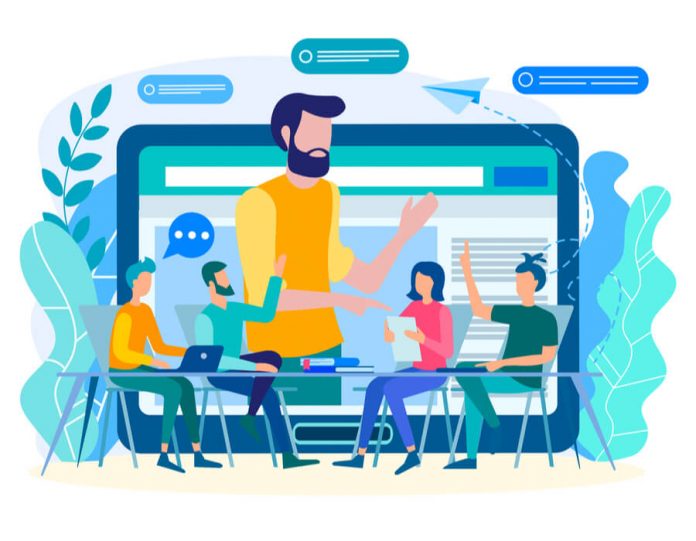 Last Updated on January 19, 2023 by Salman Khan
Most companies in today's competitive environment use webinars as their key tool to connect with their target audience and showcase their expertise to build brand authority.
With the introduction of innovations in the field of the event industry, webinars are the most extensively used virtual platforms around the world with high customer interaction rates & tremendous productivity.
In this blog, we will be discussing everything related to webinars, their types & some of the key benefits while hosting them. We will also be mentioning some of the popular webinar platforms.

Webinar Services – At Glance
Webinars are sessions that are extremely important and useful when it comes to the growth and development of a business or organization. It basically includes sharing of information in the form of – handwritten notes, PowerPoint presentations, videos, audio, etc.
With the coming of different virtual webinar platforms in the market, these events are creating new benchmarks with each passing day. Most organizations use webinars to reach a larger audience base that is located worldwide & make them their potential customers.
Webinar live streaming services tend to serve the audience an immersive experience of some real-life happenings in the virtual environment. With its highly engaging sessions, these services deliver a customized user experience with interactive doubt sessions, live questionnaires, real-time feedback, and much more.
Different types of Webinars in 2023
Basically, webinars can be broadly categorized into two categories. These have been defined below for your convenience-
Internal Hybrid Events
Some of the popular examples of these types of events include – global town halls, large team meetings, spirit weeks, etc.
For hosting these events, all you need to do is just pick up a venue and the rest of your company members will attend the event virtually.
These are hosted with the motto of benefiting the internal stakeholders of an organization which includes – staff members, officials, etc.
It should be noted that all members of an organization cant be gathered together under a single roof.
External Hybrid Events
Some of the common examples of these types of events include – product demonstrations, hybrid launch platforms, customer conferences, etc.
These are the programs that are mostly focused on viewers, clients & customers.
Transforming these events to give a hybrid look thus overall increasing the attendee count for the event along with lowering the carbon footprint.
Popular Webinar Platforms in India
Here is a list of some of the popular webinar platforms in India. This list will surely help you in identifying what type of features you are looking for in your event-
Communique Conferencing
It is one of the best webinar platforms which comes with a in one-virtual event solution as per the requirement of the client. It includes features like – AI matchmaking, networking & content suggestions which makes it even better for the audience to interact with their hosts.
MootUp
MootUp is one of the leading platforms for hybrid events with its 3D user experience for your target audience globally. It provides an immersive virtual experience for the audience sitting at remote locations & who are unable to attend the event in person due to any circumstances.
Hubilo
Hubilo offers 24/7 dedicated customer support with its designated client experience manager who is considered to be great when it comes to the technicalities of any event. It comes with tools that provide in-depth analytics of post-event metrics for performance improvisation tactics.
Dreamcast
Dreamcast is one of the leading service providers when it comes to virtual even solutions. It is in one solution which offers features like – hybrid town halls, hybrid tradeshows, virtual conferences, and much more. It comes with a WhatsApp automation feature which is remarkable when it comes to providing convenient & feasible options for the audience.
Aventri
It is in one solution for all your virtual event requirements which comes up with a pocket-friendly option. Its event management technology offers to collect, manage & analyze data related to the attendees as well as the completed event.
BuzzCast
This software is far better than traditional white-labelling ones. It has a unique custom URL which is provided to every event organizer with fully customized event options. It has a resolution of 1080p for hosting every event which is also the highest streaming quality currently available.
Ibentos
This is one of the most comprehensive platforms for all your event requirements. It can easily host 3D virtual exhibitions as well as interactive 2D sessions. Ibentos is well known for hosting – professional b2b meetings, as well as buyer-seller, meets.
Tips for Hosting Effective Webinar Sessions
Here are some of the handy tips which can be useful for the successful hosting of your webinar event –
Prepare Well for your Event
It is very important to be well prepared with respect to your content delivery & hosting requirements to avoid unwanted stumbling of words during the live session.
With the help of webinar services, you can easily outline the information you want to cover and the best audience interaction practices.
Deciding your Goals
The important factors like the generation of revenue, wider audience reach, and event promotion strategy thus hugely vary with the selection of the desired outcome you want from your event.
With the help of webinar event live streaming services, you will be able to save lot of time and energy in deciding your goal & generate high-quality leads for your product or service.

Smart Scheduling
Browse through different stats regarding engagement with the audience. For example – Thursdays are marked as the most watched weekdays for a webinar event.
Also, most of the audience prefers the evening slots to watch their event. Try your best to go with the most popular combination for getting the best results from interactive webinar platforms.
Conclusion
You can do much more with the webinar platforms than you are currently thinking. You can record your session with the help of pre-recorded webinar software and share the recorded version after the event gets over to different social media platforms.
The live webinar services come up with so much to offer & so much to save. It ultimately depends on the feature you require, the audience you are targeting and the method you choose to deliver the best service.