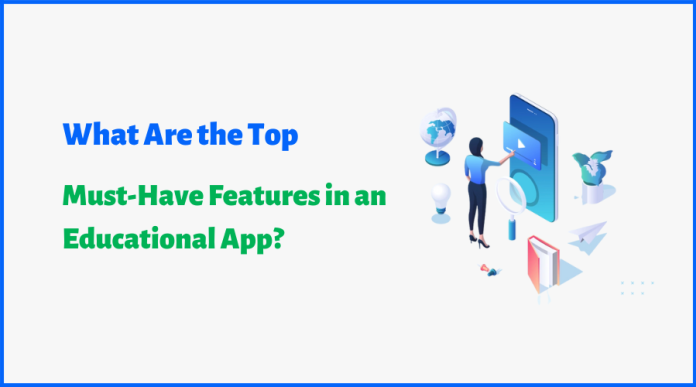 When we talk about remote learning has touched every age group, especially in the last two years. Modern technologies have reformulated the education system, allowing people to streamline their learning experience.
In simple terms, any mobile app that provides users with a remote learning platform is called an education app. The integrated learning system offers complete knowledge and provides end-to-end learning solutions.
According to Statista, the worldwide e-learning market has surpassed $243 billion by the end of 2022.
As educational apps are becoming famous, most businesses are planning to develop their online education mobile apps for their business. But before that, they must know the features that can make the app more unique, engaging, and responsive among users.
In this blog, you will come to know about the education app development features that are essential.
Top Features That You Must Have In An Educational App In 2023
1) Robust Database & Sharing
When you plan to develop an education app for your business, it must have a solid database. It will keep all the data stored related to academics and other study materials; that users can access whenever required. You should always provide relevant information to the users so they can fully use the app.
Apart from this, smooth sharing helps teachers and students to share information with each other.
2) Engaging UI/UX Design
If you are developing an education app for your business, it should have an engaging UI/UX design for a user-friendly experience. You can integrate graphics, pictures, and videos, to make the app engaging and more reliable.
You can approach any educational mobile app development company to discuss the UI/UX design of the app with experienced and professional designers that can help you to meet your expectations.
3) Interactive Content
In today's market, your app can only win users' if you provide quality content to your audience.
Your content should be a combination of text, audio, video, graphics, etc., to make it more engaging as users prefer accessing these types of content.
There are certain factors that you should consider while creating content for the users:
i) The content should be mobile-friendly
ii) It should be relevant and target a specific audience
iii) You should add facts or stats to the content to make it more engaging and many more.
4) Live Tutorials & Sessions
When it comes to online learning, your app must have a feature of live tutorials and sessions. It will help students experience better learning and enhance their skills. Through online live sessions, students can clarify doubts and discuss learnings easily.
5) Offline Mode
There are situations when you do not have stable internet connectivity. In this scenario, it becomes important for you to plan for an offline mode feature to avoid a bad user experience. All the data and information can be easily accessed without stable internet connectivity.
6) Push Notification
In today's mobile app market, almost every app has push notification features where it helps entrepreneurs to boost their business sales. As a result, you must integrate push notification features that will help teachers and students to get the latest update regarding any topic or subject. For instance, you can send real-time notifications regarding upcoming or new videos or information or any certain changes or updates in the app.
Wrapping Up
The world of online education is lucrative, and you must understand your users' demands. You can consider availing of the best education app development services to develop an app with some interactive features to make it unique and demanding in the market.