IoT has boosted the growing connection between consumers, manufacturers, and products. This popularity leads to a new era with an intensive connected environment that grows collectively. IoT (Internet of Things) refers to a global technology that transforms the industry and manufacturing sectors.
A few years back, IT experts declared that digital technologies can no longer influence dedicated niches. But, look here we are – empowering every field digitally. A big contribution to achieving this goal was the consumer's interests and their demand for customization, which gave rise to IoT development services.
In this blog, we shall discuss all the aspects of IoT and how it can evolve the entire manufacturing industry. So, let's get started!
What is IoT?
IoT technologies are everywhere. From interconnected devices like wearable technologies to virtual assistants, we have come a long way. Industrial IoT is taking digital interconnectivity to massive manufacturing consulting services and operations, where the risks are higher, but with greater payoffs.
In layman's language, IoT development is defined as the use of smart sensors and actuators to enhance manufacturing and industrial processes. Popularly known as the industrial internet or industry 4.0, IoT leverages the power of smart machines and real-time analytics to leverage the benefits of the data that dumb machines have.  
Industrial IoT capabilities require widespread digitization of end-to-end manufacturing operations. The four pillars every IIoT-enabled operation must include:
Smart machines equipped with smart sensors and software that help track and log data

Robust cloud computer systems that can store and process crucial data
Advanced data analytics systems leverage data collected from systems, informing manufacturing improvements, operations, and more.
Valued employees, who put their work insights at the front to ensure proper manufacturing operations.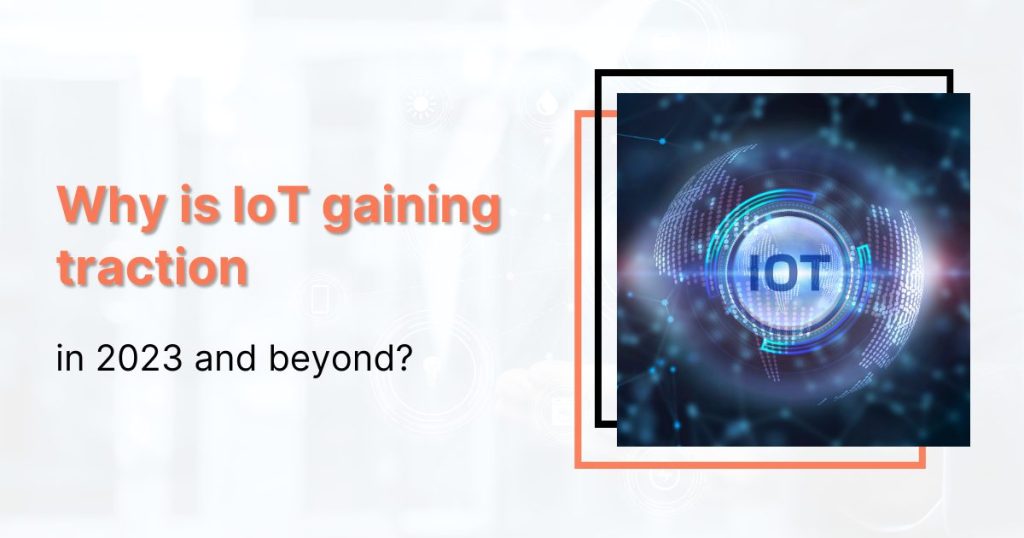 Why is IoT gaining traction in 2023 and beyond?
One straight answer can be its "bandwidth."
Unlike other technologies that were once trending and are now nowhere in the league, IoT is here to stay for a long. In a very short span, the Internet of Things has transformed our art of living. According to McKinsey, with every passing second, 127 new devices are connected to the internet. On the other hand, Allied Market research predicts that the consumer market of IoT development will reach 292.83 billion dollars at a CAGR of 13.9% by 2030.  
In the past few years, businesses have witnessed how IoT has evolved from being a mere theoretical concept to a practical experience.
Bandwidth was the major bottleneck of the Internet of Things when introduced to the world. The greater the bandwidth, the lower the latency of an IoT-based network. Also, the faster a device can communicate, the more fluid and efficient IoT technology will become. If there's too much latency, there's not much to leverage from IoT and its centralized alternatives.
High-speed networking was once a dream for cables and fiber connections. With IoT networks, devices can wirelessly connect via 5G networks and Wi-Fi 6 (802.11ax). Faster wireless data empowers IoT and make it what industrial experts think about it as the future.
Here are the top IoT trends to watch in 2023:
Artificial Intelligence
Smart cities
Infonomics and Data Broking
Hyper Automation
Cyber Security Mesh
IoT Governance
No sector is left untouched by the above mentioned technologies. From agriculture and smart city to robotics, healthcare, retail, and home automation, IoT has covered a wide array of applications and services.  
Speaking of IoT in the manufacturing industry, it has vast implications for operations and gained popularity in "smart factories" for productivity and quality. It covers how we manufacture goods, sell to customers, and follow up with extended support.
The availability of IoT infrastructure and robotics means more organizations will leverage IoT in the manufacturing industry. Now you know, IIoT is one of the core driving forces behind industry 4.0, which brings us to the next point.  
How do manufacturing industries adopt the Industrial Internet of Things?
Before getting ahead with the discussion, let's clear the confusion between IoT (Internet of Things) and IIoT (Industrial Internet of Things) –
IIoT is a subcategory of IoT often used in an industrial context. It refers to a unique phenomenon where various digital tools are used to connect data and machines in advanced factories to enhance productivity and quality.
Therefore, IoT is defined as a consumer-centric concept, whereas IIoT is highly focused on supply chain, manufacturing, management, and more.
For the adoption of IoT, manufacturing industries have a high-scale expectation to meet never-ending demand for steady growth and personalization along with supply challenges. Despite all the challenging needs, enterprises, manufacturers, and product producers are hunting for unique approaches to compete and lead the market.  
What are the significant factors that explain how IoT helps in manufacturing?
You now have an idea of how IoT technologies have become a game-changer for manufacturing industries. Here are the three significant factors that explain how IoT development helps evolve and improve efficiency on the production floor:
Cost reduction:
Manufacturers tend to use IoT for its efficient inventory management, agile operations, and reduced operational costs. For instance, smart connected products allow businesses to analyze selling products and the customer's selling experience. It means you can keep a bird-eye view of product usage and post-sale service.
Mass customization
It is probably one of the most crucial factors to implement IoT technology in manufacturing industries. The process of mass customization requires a raise in various products and tools, which results in a diverse inventory. These operations are complex and require a reliable solution. IoT facilitates mass customization and acts as a real-time data source via scheduling and forecasting features.
Faster time to market
While manufacturing consulting services are faster and more efficient process, the product cycle time reduces too, for instance, Harley-Davidson used IoT to reconfigure its York and improved its manufacturing facility, which further reduced the total time of manufacturing one bike from 21 days to 6 hours!  
What are the major benefits of IoT?
With IoT development, businesses can make highly-informed decisions supported by reliable, trending, and informative data. Overall, personnel at all levels can diagnose the problems and optimize their work operations using the Internet of Things. Other benefits of IoT include:
Asset tracking
With IoT, you can track products throughout the supply chain and notify the stakeholders in case of any caution or possible damage to their goods.
Facility management
IoT-connected sensors and tools help examine conditions like humidity, temperature, and vibrations. You can easily detect conditions that can adversely impact the entire operation, and take preventive measures beforehand.
Enhanced machine utilization
The industrial IoT enables connecting machines to the internet. It gives businesses an insight into machine lifelines and KPIs. This data massively helps in fixing cases of unplanned downtime.
Predictive maintenance
Real-time data from interconnected IoT devices help predict defects in manufacturing tools and machinery. It again saves you downtime and helps increase overall productivity. Also, it includes the associated cost you save by reducing process time, scrap, and rework.
Connecting remote assets
Connecting tools and devices means that data from all the remote assets are easily accessible from one centralized location. These assets can get examined and monitored, which further gives you a high degree of control.
Process and behavior monitoring
In business organizations and enterprises, managers gain insight into their employee's performance using IoT data. For instance, you can identify employees when they consistently produce defections and perform a root cause analysis. It helps translate to quality assurance, cost-saving, and enhanced scalability.
Summary
The Industrial Internet of Things (IIoT) in manufacturing consulting services and businesses helps maximize productivity, reduce cost, and eliminate waste to a great extent. By leveraging IoT technologies and data, you get an in-depth understanding of demand forecasting and supply chain process that results in a better customer experience. Therefore, it's never too late to leverage IoT software development services.  
We can help you with end-to-end IoT development services and wearable connectivity development along with testing and maintenance. We're excited to hear from you.  
Connect with us today.
FAQs
What are the benefits of IoT in manufacturing?
Automated data collection: In a traditional setting, employees can utilize more manual data collection methods
Improved productivity: Manufacturers with IoT-enabled production processes help improve productivity by increasing machine utilization.
Faster time to market
Cost efficient
What are the advantages of advanced manufacturing technology?
Great quality standards
Enhanced productivity
Encouraged innovation
Reduced production time
Syncing manufacturing and business strategy
Tapping networks for technology identification
Technology prioritization and evaluation
Rapid yet strategic implementation of technologies
What is the impact of technology on manufacturing?
Technology has created a great impact on business, especially in updating existing products and finding new ways of manufacturing products. Technology benefits businesses as it allows them to produce higher qualities, make products highly consistent, and be more cost-effective.